Description
Perform Takeoffs quickly and easily for the construction and other industries. Digitize areas, distances (lengths), and counts from blueprints, maps, plans, and drawings. Easily export results to Excel.
Use a digitizing tablet to perform takeoffs from printed blueprints and plans and the computer's mouse to perform takeoffs from digital images. On touchscreens, takeoffs can be performed with your finger or pen pointer.
Start the Fast Takeoff software program, input the scale units, English or metric. Input the scale or calculate the scale from the plans by digitizing a known distance. Choose to digitize area, length, or counts. Digitize the item using the digitizing tablet or screen. Digitizing can be point to point, or continuous. Area and lengths can be added to find a cumulative distance or cumulative area. Lengths and areas can also be subtracted. From area calculation volume or pitch can be computed.
Digitizing items are displayed on screen while digitizing. The result tables can be printed or saved in Excel files.
Features
Displays items on screen while digitizing
Digitize/trace point to point or continuously, regular or irregular shapes
Dgitize paper blueprints and plans using digitizing tablet
Digitize image blueprints and plans using computer screen
Units can be English or metric
Input scale or calculate scale from plans
Extremely fast and easy to use
Display results on screen
Copy results to Excel
Copy and print reports and digitized images
Copy and print results
Save digitized drawlings as DXF files for loading into cad programs
Save data filesfor later import
Input description names, materials, and additional information
Calculate areas, lengths, counts, sum line segments and sum line areas
Easily add and subtract areas and lengths
Muliply areas to compuute volumes and multiple areas by pitch angle to get true area
Tablet digitizing can use pen stylus or button cursor
Start and stop digitizing and add/subtract areas using cursor buttons
Tracing Methods
Digitizing Tablets & Accessories
A Digitizing Tablet is an electrical-magnetic board and pointer (pen or cursor) that can send highly accurate XY points to a computer program. The board is about an inch thick, contains an electrical grid underneath a hard Formica surface. The digitizer's pen or cursor (mouse-like device with magnifying glass and crosshair) creates a magnetic field which is "sensed" by the electrical grid in the board. Press the tip of the pen or push a button on the cursor and a highly accurate XY point, representing this location, is sent to the computer through a USB connection.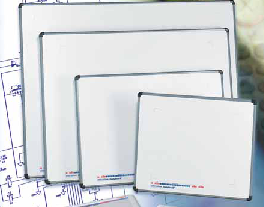 Accuracy and Sizes
The standard accuracy of a digitizing tablet is .01" (10/1000). Divide an inch into 100 parts, the result is .01" accuracy. Larger digitizing tablets are also available in .005" (5/1000) accuracy, the higher accurcy adds $500 to the cost of the digitizer. The largest digitizing tablet has an active area of 44x60", other sizes are 36x48", 30x36", 24x36", 20x24", 12x18", and 12x12". Most clients get a 36x48" or 30x36" digitizer.
Accessories
Higher Accuracy - Upgrade the digitizer accuracy to .005", $500
Digitizer Stand - a pedestal under the digitizer with adjustable height and angle, $500. Some clients prefer to use a table or desk, mount on wall, or build a stand. Used electric, dakota, and chaparral stands are also available.
Extra Pen or Cursor - The digitizer comes with one corded or cordless cursor, extra pointers are available
LED Light Panel - A thin LED light panel that lays on top of the digitizing tablet that turns the digitizer into a surface lit digitizer. Fairly expensize but useful for digitizing mylars, x-rays or other materials better seen with a back lighting.
Quikruler Attachment - Digital readout that sits near the digitizer allowing quantity takeoffs to be performed without a computer and software.
Recommended Digitizers
The Fast Takeoff Digitizing System includes the Fast Takeoffs software and a GTCO Calcomp Logic Tracer or GTCO Rollup digitizing tablet.
The takeoff software will also work with the GTCO Calcomp Drawingboard, GTCO Super L, Numonics Accugrid, and Summagraphics digitizers.
Other Information
The digitizer can work in dusty environments including factories and shop warehouses
The digitizer can "sense" almost an inch above the surface allowing the digitizing designs on top of paper, cardboard, plastic, or plywood.
The digitizer can come with a corded or cordless pen stylus or cursor, we recommend the corded pointer, they have less interference problems with nearby electronics
Software and Hardware
Supported File Fomats
Partial Customer List
RCI Artisan Tile & Stone Carlin Constracting Southern State Enterprises LLC Artisan Tile & Stone Construction Process Solutions KJM Associates Nau, Inc. Miller-Yount Paving Inc. MorCon Inc. Ruston Paving Harcon, Inc. Kaiser Industries D.A.C. Proformance Grading Luna Concrete Inc. Interactive Construction Systems Trinity Heritage Construction Andrew Gibson Turning Point Construction KVC Constructors Hull Associates LLC David Bowies Custom Home Designs Florida Landscape Services Andrew King:Andrew Stuart Construction Spire Builders LLC Metropolitan Contracting Company, LTD Dack Consulting Sans and Associates DB/CM Construction, Inc. London Mining Company (SL) Ltd. London Mining Company (SL) Ltd. JS Civil Construction Carl Rose and Sons David Mullen Andrew King Vila and Sons Landscaping Inc. IT De Villiers Douglas Frederick Hander Inc. Plumbing & Heating Quality Roofing Prince Construction Gestion de projet Ghislian Belisle Inc. Master Ship Construction Thermotech Insulation Innovative Services Blue Diamond Landscaping Gibson Concrete Tobago Combs Sheet Metal Stripe A Zone Peps-c Go Go Construction, LLC Construction Doverco Paul Poovey McCambridge Brother Construction Old Pro Roofing MCC and Associates, Inc. D K Concrete ARB, Inc. R & T Roofing Contractor Bergeron Framing Rooney Landscape Sports Fields, Inc. TBS Construction Inc. Jerome Bradford Enterprises Delaware Valley Demolition Chester Mumpower R.Bates & Sons, Inc. David Wight Construction Soulliere Decortive Store Max Robertson Contractor Neithercutt Construction W & M Construction Diversified Thermal, Inc. Moore & Mulheron Contracts Ltd. Border Paving Ltd. Pavecon Goss Foundations Basalt Roofing Raymond Group Dakota Design & Development Groen Concrete Slack & Company Cronin Landscape Inc. Pelican Bay Development Constructor Edge Software Silver State Marble Arturo Garcia FenixBuilt Remodeling LLC Simpson Construction Richard Smith Al Gayle Yeiser Excavating Broadmoor LLC Radman Consulting LLC Accurate Estimates Lee Wood Construction Legacy Scapes Cobra Construction Morgan and Associates KLEBS White Oak Builders Wall Tech Inc. RNR Bobcat Inc. Adams Custom Landscaping LMT Estimates Wiser Excavation LDL Excavation Brandon Gallop Roofing Heyl, LLC L.H. Krueger $ Son Inc. Hunter Roberts Construction Group Wolf Paving The Nassal Company Khaled Farah Bradford Building Alpine Mountain Builders Metromedia Network Oxford Radcliff Hospital Commercial Interior Finishes Cobra Construction - Del Ray Beach Sunshine Environmental Houston Landscapes Unlimited H&L Ledford Consulting Petra Construction Craig Moreland Control Air Systems Riffey Builders Inc. Black Hawk Tile & Stone Vector Arizona Black Hawk Tile & Stone J & S Construction Noland Homes Louis Todd Corporation Analytical Planning Services Inc. Lucia Calderin Tighitco Latinoamerica S.A. de CV Site Technologies The Boldt Company John J Smith Masonary Comapny AH Estimating Buckly Company DBA East Shore Drywall Ponche Construction Consultants Kody Construction Tenant Improvement Specialists Jenco Concrete Company LLC William Burke National Flooring Services Inc. AGCM B & N Insulation RB Hash and Associates Shoulette Construction Inc. Richard Williams Granite Constuction Inc. PV Roofing J.R. Heineman & Sons Mountain States Contracting Doggett Concrete Contractors Cove Properties Outsource Estimating Crest Inc. RBG Contractors, Inc. Harrison Tile BCQS Limited DV Rasmussen and Son FTR International Inc. Crest Inc. Asbury Construction The Knopke Company Gleeson Asphalt Inc. Oliver Construction of the Carolinas CRL Mega Way Enterprises JCW Builders Inc. Stephen Levine Pro-Pave Inc. Carpet Cottage CASL Bendigo Custom Stone All Phaze Commercial Tala Construction Goodman Concrete Company RJS & Associates The Boldt Company - WI Faltz Landscaping, Inc. Home Design and Realty Mountain Mill Works, Inc. Austin Roofing and Siding STACC Armour Pavement J&A Masonry Inc. Architectural Floor Solutions LLC Phoenix Construction Sitecon Sips Inc. R2O Landscape and Irrigation Campbell's Carpets Shell Systems Dave Foreman Dollar Concree Construction Site Work Solutions Commercial Paving Maffeil Landscape Contractors E. W. Burman, Inc. Royce Holdings Edge Concrete Construction Bluegrass Erosion Control Alistair McCallum Seattle Painting Specialist W. N. Sanders Consultants LLC Ocean Energy RS Halstead Corp. Roche Constructors Mike McAllister Bodkin Excavating Superior Roofing Concepts Roche Constructors JJM Marandino LM Steel Company Salon Companies Metro Decorators Water & Environmental Technologies Apex Paint Figueroa Country Gardens Valley Crest Blackwater Draw Inc. JFE Inc. Energy Consult Port Morris Tile and Stone Steve Nipper Gary Humphrey Dave Stewart Construction MGT Landscaping JL Enterprise Accurate Tile & Marble Sharon Nonak Daniel R. Moxley, Inc. Hunzinger Construction Mission Landscape Services IHC, Ltd Earthwork Calc CCT Colourtech Ideal Interiors RW Smith Company JNS Ramos Construction Company LH Krueger Gerald H Phipps Contractors RKB Contractors Pacific Hardwoods Flooring Thermal Concepts University of Texas at Tyler Rebulic Building Contractors Klepzig Material & Trucking Inc. Wolf Creek Contracting Inc. Deltoro Landscaping Neo Corp. Millenium Marble Pilot Contracting Corp. C.W. Driver J.N. Elite Builders David Bowies Custom Home Designs Encore Landscape Group Shields Construction Ken Russell Development Pompeii Painting Revolution Engineering Willis A.Smith Constuction Inc. R & K Excavating AGCM Shields Construction Longford Homes Hymmco Doall Construction Gonzales General Contracting Bibler Masonry Florteq Limited Earthtrades of Central Florida Excaliber Roofing Charles and Vinzant Construction Company Swiridoff Construction Carolina Roofing Richard A. Baxter, Sr. R & D Builders & Renovators Bacha Construction The Hardscape Group Ortiz Tractor Service 5 J's Construction Services Tri Dal Limited Chiltern Digitising Services Red Roots Landscape, Inc. De Los Santos Drywall, Inc. Bacha Construction Peter Welling Oncore Construction Riley Construction Apollo Cypress Legacy Commercial Flooring Mark Abernathy Able Roofing Cameran JS Construction Mad City Roofing Yewell LLP Bear Valley Waterfeatures, Inc. Prodigy Flooring Mark Hodkinson Cromb Associates Ray's Concrete Diamond One Construction Inc. GM Estimating Services DL Beck Inc. Chessie Consulting Unlimited Services of Virginia Blue Chip Pavement Keith J. Brady Topside Contracting Civil Construction The Albert M. Higley Company Bruce Tile Company Texas Concrete Jen-Col Construction Ltd. Out-n-about Floor Coverings CJ Concrete Ambiance Coating Blue Diamond Landscaping WYG Management Services J. D. Day and Company Roche Ltd - Quebec Titan Salvage MCC Constuction MPG Shreeves Douglas Frederick G & A Barnie Building Services Ltd. Al Gayle Sees Flooring Rocky Mountain Insulation Pearson Construction Company Demo Spec Inc. Spring and Company Ltd Veteran Development and Construction
Testimonials
Hi John, I thought I'd drop you a quick email to let you know just how good your tablet and software is proving itself. Over the past week or two I've had a large run of jobs to cut from templates and your system has been brilliant. It's easy to use and more accurate than I had expected. This really is an excellent time saver. Really glad I bought it. Many thanks for a system that does everything it claims to do. A rare find these days. Best regards Patrick Griffin London Waterjet