Description
Designed specifically for the CNC, CAD, Cutting and Pattern Making industries, The Jumbo Trace Digitizing System consisting of multiple digitizing tablets and Jumbo Trace digitizing software by The Logic Group can quickly and easily trace any outline, template, object, or part and create a DXF graphics file on your computer ready for use by any CNC or cutting software and machine.
Tracing objects and creating computer graphics files is fast and easy: 1. Place item on digitizing tablet 2. Choose whether to digitize points, lines, arcs, or circle 3. With digitizer pen trace the object 4. Repeat last 2 steps as needed 5. Save DXF file 6. Load file into CNC or Cutter software That's It!!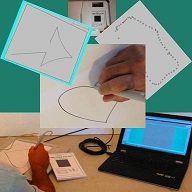 A typical Jumbo Trace Digitizing System comes with the following components: Digitizing Tablets, Pen Stylus or Cursor, Jumbo Trace Software, Connecting hardware, Calibration Sheet
Sample Uses of Jumbo Trace: Metal Fabrication, Glass Cutting, Upholstery, Countertops, Die Cutting, Custom decays and Signs Packaging and Pattern Making Custom Motor, Aircraft, and Boat Parts Embroidery And Many More...
Jumbo Trace System works with a variety of CNC machines Plasma Cutters, Laser Cutters, Waterjets Printers, Plotters Fabric and Cloth Cutters
Jumbo Trace Software can create DXF, DWG, Gcode, NC, SVG, EPS, PDF and other graphics files of the traced patterns
Tracing Methods
Tracing - Freehand drawing, continuously trace an edge of a part or pattern. For example continuously trace a heart or a pattern of a seat cushion
Lines and Arcs - digitize points and have the points connected with lines or arcs. For example digitize the outline of an ice cream cone with a V at the bottom and a semi-circle at the top. Digitize three points for the cone and three points for the arc (actually two points for the arc because it uses the last point digitized of the cone for the first point of the arc
Combination - Toggle between freehand tracing and points connected with lines and arcs
Point to Point
Circles - Digitize any three points on a circle (ie at the top, lower left and lower right and the software uses those three points to calculate and display the circle
Curve Fitting - Digitize a series of points along a smooth curve and the software fits a Bezier curve-fit line through all the points
Features
Trace object or drawing and create DXF graphics file
Fast and easy
Very accurate with .01" standard, higher accuracies available including .005"
Useful in hundreds of different CNC and Cutting machines including routers, waterjets, plasma, metalworking, manufacturing, wood-working, plastics, furniture, upholstery, garments, machining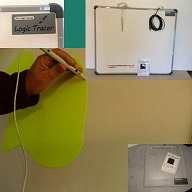 Useful in hundreds of different industries metalworking, manufacturing, wood-working, plastics, furniture, upholstery, garments, machining, sign-making, boat manufacturing
Trace lines, arcs, curves, points
Trace point to point or continuously
Generate DXF files with Arcs and Lines or Polylines
Generate Gcode files
Convert DXF files to other formats
Trace object on digitizer using pen stylus or cursor
Place object directly on digitizer or trace from template on digitizer
Create accurate graphics files of objects in minutes
Normal scaling is 1:1 but different scaling possible
English and metric units
See digitized image on screen
Arcs created by digitizing endpoints and any middle point
Complex curves can be created using polylines or digitizing multiple points and arcs automatically created
See all points and results on screen including arc data.
Digitizing Tablets & Accessories
A Digitizing Tablet is an electrical-magnetic board and pointer (pen or cursor) that can send highly accurate XY points to a computer program. The board is about an inch thick, contains an electrical grid underneath a hard Formica surface. The digitizer's pen or cursor (mouse-like device with magnifying glass and crosshair) creates a magnetic field which is "sensed" by the electrical grid in the board. Press the tip of the pen or push a button on the cursor and a highly accurate XY point, representing this location, is sent to the computer through a USB connection. The Logic Trace software then turns those points or stream of points into a DXF file. Most Jumbo Trace clients prefer using the pen stylus to trace around the edge of a part or pattern.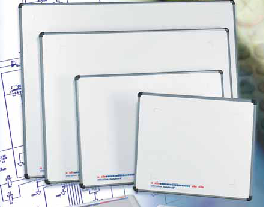 Accuracy
The standard accuracy of a digitizing tablet is .01" (10/1000). Divide an inch into 100 parts, the result is .01" accuracy. Larger digitizing tablets are also available in .005" (5/1000) accuracy, the higher accurcy adds $500 to the cost of the digitizer. Most clients that are working with cloth, foam, wood, or glass prefer the .01" accuracy. Clients working with metal use either the .01" or .005" accuracy.
Accessories
Higher Accuracy - Upgrade the digitizer accuracy to .005"
Digitizer Stand - a pedestal under the digitizer with adjustable height and angle, $500. Some clients prefer to use a table or desk, mount on wall, or build a stand.
Extra Pen or Cursor - The digitizer comes with one corded or cordless cursor, extra pointers are available
LED Light Panel - A thin LED light panel that lays on top of the digitizing tablet that turns the digitizer into a surface lit digitizer. Fairly expensize and generally not needed for Tracing applications but useful for digitizing mylars, x-rays or other materials better seen with a back lighting.
Other Information
The digitizer can work in dusty environments including factories and shop warehouses
The digitizer can "sense" almost an inch above the surface allowing the digitizing designs on top of paper, cardboard, plastic, or plywood.
Compatible Software and Hardware
Compatible with almost all hardware and software programs that reads or import files graphic files
Logic Trace Software is commonly used with Autocad, Corel Draw, Adobe Illustrator, Plasmacam, Torchmate, Mastercam, Rhino, Cricut, BobCad-cam, Sheetcam, Omax, OneCNC, Vectric, TechnoCNC, TurboCNC, Mach3, Multicam, Enroute, Flow Waterjet, Flexisign. Flashcut CNC, GibbsCam, Dynatorch, and many more.
Logic Trace Software files can be used with laserjets, waterjets, plasma cutters, CNC machines, CNC Routers, printers, plotters, vinyl cutters, die cutters, graphics software, and many more.