Jumbo Tracer CNC DXF Digitizing System
Quickly Create DXF Files for CNC and CAD
Use Multiple Digitizing Boards to Accurately Trace Large Parts and Patterns in Minutes!
More Tracing Videos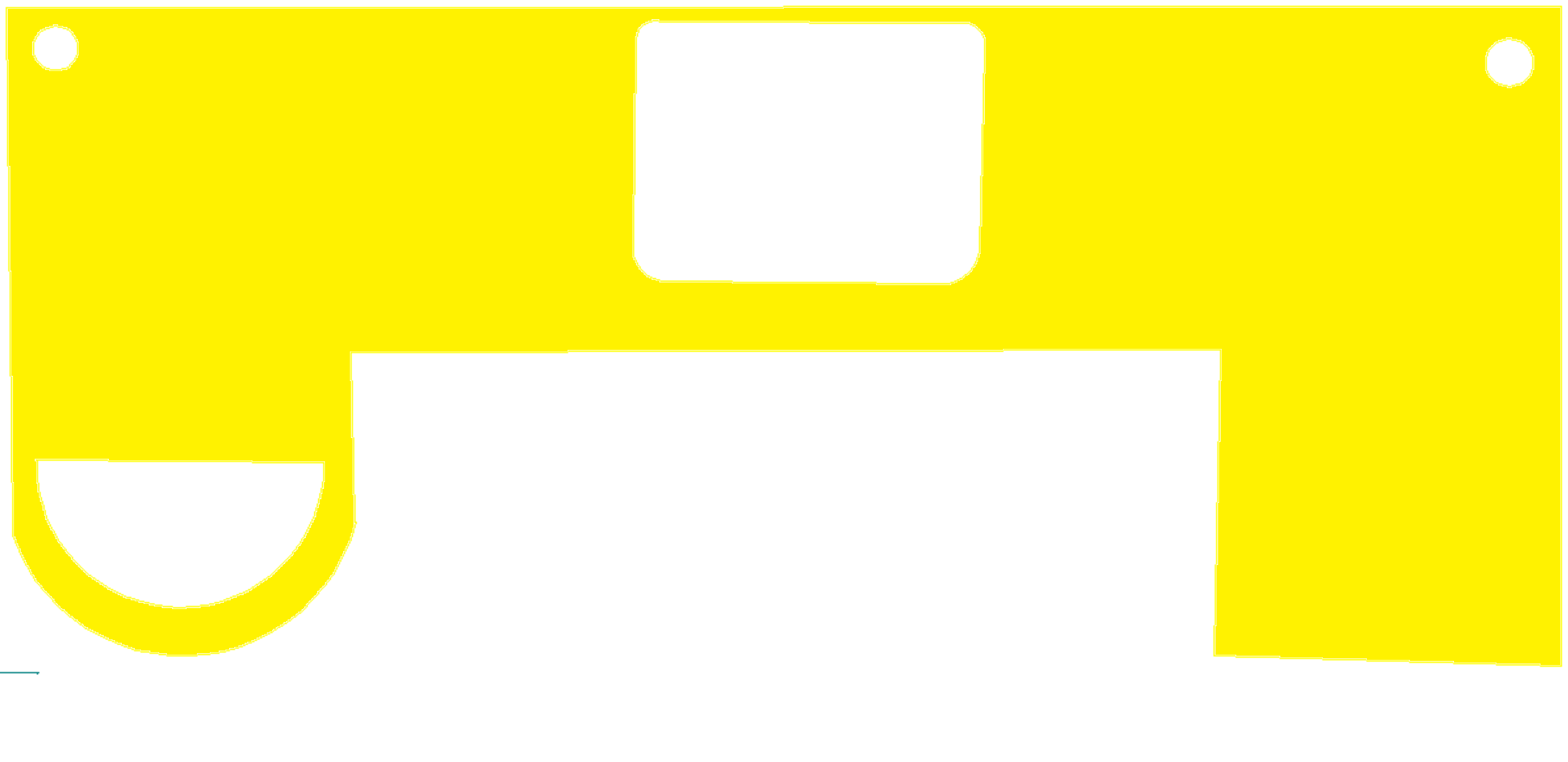 Countertop Example
Jumbo Tracer CNC DXF Digitizing System
Designed specifically for the CNC, CAD and Pattern Making industries, The Jumbo Trace Digitizing System consisting of multiple digitizing tablets, pen and Jumbo Trace software can quickly and easily trace any outline, template, object, or part and create a DXF graphics file on your computer ready for use by any CNC, CAD or cutting software and machine.
Works with all machines: plasma cutters, waterjets, laser cutters, vinyl cutters, plotters, any and all CNC machines.
Sizes available include 5x8', 5x12', 5x16', 8x11' and larger. Metric sizes are 1.5x2.5m, 1.5x3.6, 1.5x4.8m, 2.4x3.3m. Accuracy is 0.01" or 0.005".
New in 2020: Additional Jumbo Tracer sizes available: 2x7.5' (0.6x2m), 3x9' & 4x7.5' (0.9x2.75m & 1.2x2m), 2x10.5' (0.6x3.2m), and 3x14' & 4x10.5' (0.9x3.5m & 1.2x3.2m)
Works with all software: Autocad, Plasmacam, Mastercam, Mach3, Bobcad, Vectric, Vcarve, SigmaNest, Solidworks, Rhino, CorelDraw, Adobe Illustrator, Gerber and many others. Our DXF files are compatible with all CNC and CAD software
Very easy to use, takes less than ten minutes to learn.
Logic Trace and Jumbo Trace Users: SB Skiltagerd ehf. - Vulcan plate - Mahan Welding Incorporated - Arthur R Warner - HP3 Software - Foam fabricators - SMS Headliners, LLC - Rugged tanks LTD - Acryplex Inc - Audio source - Maxs woodworking - My Brother's Workshop - Anheuser-Busch Inbev - Zonhan Wind and Solar - Hydro health systems - 393 Compenents - StudiOlga di Elisseeva - Stephan Campbell - New wire marine - Smith Made - Eastman Chemical/Phoenix - Watercut Services - Trulite/Sacremento - David Lynas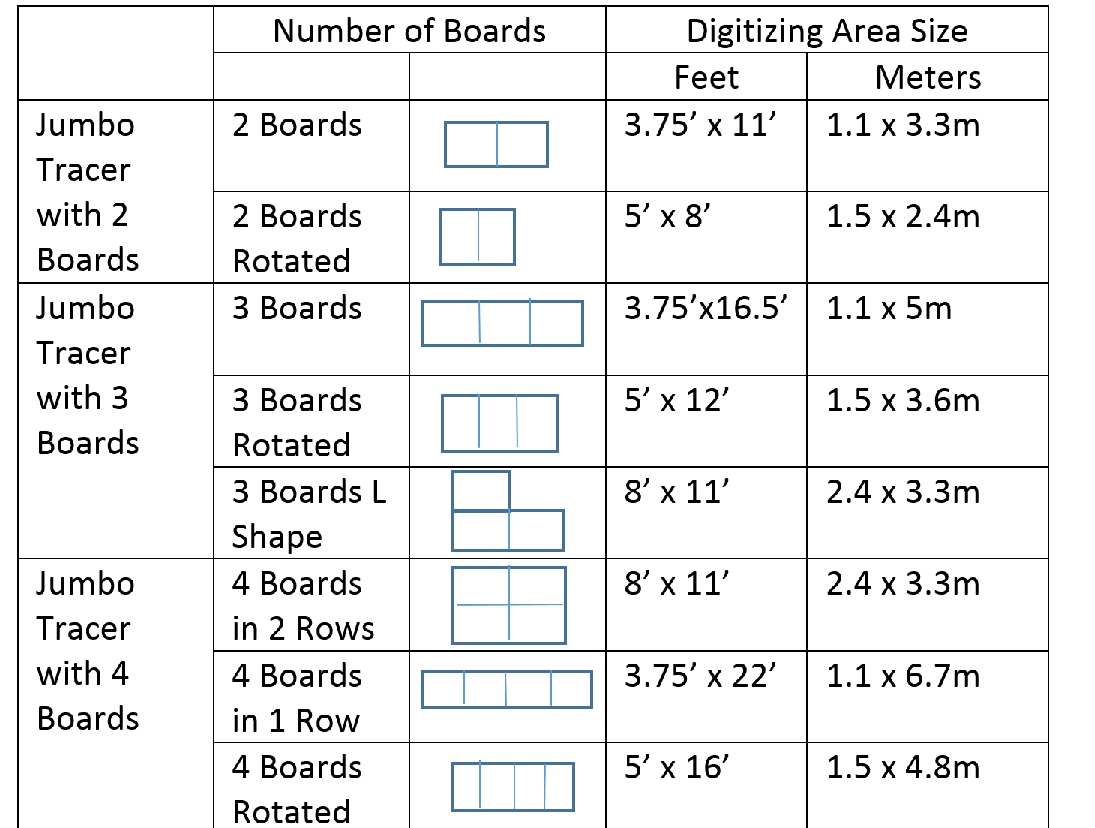 Up to 16 digitizing boards can be connected in the Jumbo Tracer Digitizing System. Contact our office for information on tracing larger patterns with multiple boards.
Jumbo Tracer
A product developed by The Logic Group and GTCO Calcomp for tracing large templatespatterns/parts using multiple digitizing tablets and Logic Jumbo Trace software
Up to 16 boards can be connected and used at one time to digitize patterns up to 88' in size (28 m) in size
Accuracy across boards maintained through exclusive calibration sheets. During setup, users digitize points on the calibration sheets placed between connecting boards. defining proper alignment
Exclusive mounting hardware for connecting multiple boards in any user chosen configuration - rows, columns, squares, and L shaped. Boards can be rotated 90 degrees for additional setup variations. Modular system makes reconfiguration of tablets easy.
Cordless pen stylus or cordless cursor allows easy digitizing across boards
Plexiglass overlays included to offset digitizer edge brackets (extrusions) to allow a smooth surface of multiple digitizers to be at same height. Metal, cloth, and paper templates placed across boards lay flat allowing extremely accurate digitizing
Gaps in digitizing caused by digitizer borders can be easily filled by moving template or part, realigning, and tracing gaps. A complete accurate tracing of template is possible with the Jumbo Tracer
With 16 digitizer boards, patterns up to 4'x96' (1.3x30m) can be traced when placed in a single row or 18'x22' when placed in 4 rows
Clear Shield - Arnold Clark Automobile - Kiewit infrastructure - Working Class Interiors, LLC? - IBS Flight Cases - Ahlin Dedry - Hermance Machine (Pittsburgh) - SLDM Engineering P/L - Ramfoam - US metal fabricators - Spirit Aerosystems Tulsa - Gary Brethurst - Don Hedberg - Cartwright - RDG company - Century Boats - Luvitech - Lee's Sheet Metal - CCI/Speer - Teknion Studio - Peterson Cat - Shuffett Machine - Cleveland Brothers - Knysna Yacht Company - Trent Steel
Digitize a Privacy Screen and CNC Cut
Features
Trace object or drawing and create DXF graphics file
Fast and easy
Very accurate with .01" standard, 0.005" accuracy available
Complete tracing system consisting of digitizing boards, pen stylus, connecting hardware and Jumbo Trace software for creating DXF files.
Multiple boards can be connected for tracing very large patterns: 5x8', 5x12', 5x16', 8x11' and bigger. Metric sizes are 1.5x2.5m, 1.5x3.6, 1.5x4.8m, 2.4x3.3m
Boards can be attached in vertical lines, horizontal lines, L-shaped, Rectangular. Modular construction allows tablet to be configured in many ways to match pattern/template designs
Useful in hundreds of different CNC and Cutting machines including routers, waterjets, plasma, metalworking, manufacturing, wood-working, plastics, furniture, upholstery, garments, machining
Useful in hundreds of different industries metalworking, manufacturing, wood-working, plastics, furniture, upholstery, garments, machining, sign-making, boat manufacturing
Industrial welding supplies - Sanger Boats - GIBA srl - Acme Autoglass - Pierre School District 32-2 - Precision Woodworking - Solution systems - Szeremi Sweeping - Maverick services - Custom Creations - Valley mechanical art - Lavoie Welding and fabrication - Salsa Prototype Specialities - PLOT SERVICE srl - Lamin-x - Minnotte Manufacturing - Ellahm - Bergers Table Pads - Supply All Manufacturing - Edward Handal - Davis Petroleum Corp. - Starke Millwork, Inc - Foam Fitting Solutions - Eurostyle Glass Colours - Quality Foam
Jumbo 2 Board Cardboard Video
Trace lines, arcs, curves, points, circles
Trace point to point or continuously
Generate DXF files with Arcs and Lines or Polylines
Generate Gcode files
Convert DXF files to other formats
Trace object on digitizer using pen stylus or cursor
Place object directly on digitizer or trace from template on digitizer
Pen can register almost an inch above surface of board, trace through paper, cardboard, plastic, mylar
Create accurate graphics files of objects in minutes
Normal scaling is 1:1 but different scaling and sizes possible
English and metric units
Arcs created by digitizing endpoints and any middle point
Complex curves can be created using polylines or digitizing multiple points and arcs automatically created
"I am amazed by its simplicity, Logic Trace can do the job in half the time, is cost effective, and increases productivity. I was digitizing patterns within an hour of installing the software. I would highly recommend this product as it is user friendly, very reasonably priced and completes its task with precision. Congratulations on a great product." Manny Ornelas
Specialty Stainless Steel Fabrication - UTV - Two Harbors machine shop - Autoliv - Woods metal Works - The Leather Sofa Company - Ameripack, Inc. - Computer signs - Custom Marine wood and wire - Rocco Mcclure - Harduini Racing - Heritage Aviation - Samson Mechanic - Everett Steel Inc. - Van Dam Welding - Scott's fabrication - A-2-Z MAINTENANCE LLC. - Dommange - Calvin Charles Design Inc - Drive Group - Arrow glass industries - Military products - Kurtis Morin - Stewart Signs - Alaska Fine Custom Woodwork
Jumbo Cardboard 3 Board Video
Digitizing Boards
A Digitizing Board is an electrical-magnetic board and pointer (pen or cursor) that can send highly accurate XY points to a computer program. The board is about an inch thick, contains an electrical grid underneath with a hard Formica surface. The digitizer's pen or cursor (mouse-like device with magnifying glass and crosshair) creates a magnetic field which is "sensed" by the electrical grid in the board. Press the tip of the pen or push a button on the cursor and a highly accurate XY point, representing this location, is sent to the computer through a USB connection. The Logic Trace software then turns those points or stream of points into a DXF file. Most Logic Trace clients prefer using the pen stylus to trace around the edge of a part or pattern.
The pen stylus does not need to be touching the board, the board can sense the tip of the pen almost an inch above the surface without losing accuracy. Digitize through paper, plastic, cardboard, glass.
"I want to inform you, I'm so happy with my new digitalizing board! It makes my life easier" Akos
Jeepology - Regatte Service Kft - Custom welding and Fab - Action Based Learning - Weldsafe Limited - Aim Aerospace/Renton - Central City Machinery - Amazing floors - SC GIBA SRL - Barry Wright Race Cars - Fairview automated burnouts - Kaya Associates - Cardinal Glass Fargo - Precision Drilling - Custom Marine Carpet - RICHARD COURT FORESTRY ENGINEERING LTD - Thermal structures - Event Special Effects - Project Services Group - Reliable Hardware & Steel - PI-Marine - Granite Industries - Rolls Royce - WindowFilms WA - TMW Offroad
Boat Plans Tracing and CNC Cut
Tracing Methods
Tracing - Freehand drawing, continuously trace an edge of a part or pattern. For example continuously trace a heart or a pattern of a seat cushion
Lines and Arcs - digitize points and have the points connected with lines or arcs. For example digitize the outline of an ice cream cone with a V at the bottom and a semi-circle at the top. Digitize three points for the cone and three points for the arc (actually two points for the arc because it uses the last point digitized of the cone for the first point of the arc
Combination - Toggle between freehand tracing and points connected with lines and arcs
Point to Point
Circles - Digitize any three points on a circle (ie at the top, lower left and lower right and the software uses those three points to calculate and display the circle
Curve Fitting - Digitize a series of points along a smooth curve and the software fits a Bezier curve-fit line through all the points
Just wanted to let you know we have now done several jobs with the single board tracer and jumbo tracer software and all has worked great. Hope business is good for you this year. Cheers. Matthew van de Ven
Walcon Inc. - Gulfstream - Laurens Tool Inc. - Richard Anderson - OEM Retrofit - Robert Hamilton - SC GELADI SRL - Change Parts Inc - Bradley Hermetics - Pearl Global Industries Limited - James Gerber - Arctic FX Graphics - Thomas Fleming - Scafer Farms - Krzewina farms - Craymond Nigeria Services - Norm Soucy - Tom Drake - Jill Soenke - Coil Specialist, Inc. - Martyn Ross Bull - Faber Burner - OMNIX INTERNATIONAL LLC. - Custom gaskets - Llumar Films S Africa
Jumbo 4 Board Example Video
Compatible Software and Hardware
Compatible with almost all hardware and software programs that reads or import files graphic files
Jumbo Trace Software is commonly used with Autocad, Corel Draw, Adobe Illustrator, Plasmacam, Torchmate, Mastercam, Rhino, Cricut, BobCad-cam, Sheetcam, Omax, OneCNC, Vectric, VCarve, TechnoCNC, TurboCNC, Mach3, Multicam, Enroute, Flow Waterjet, Flexisign. Flashcut CNC, GibbsCam, Dynatorch, and many more.
Jumbo Trace Software files can be used with laserjets, waterjets, plasma cutters, CNC machines, CNC Routers, printers, plotters, vinyl cutters, die cutters, graphics software, and many more.
"Hi John, I thought I'd drop you a quick email to let you know just how good your tablet and software is proving itself. Over the past week or two I've had a large run of jobs to cut from templates and your system has been brilliant. It's easy to use and more accurate than I had expected. This really is an excellent time saver. Really glad I bought it. Many thanks for a system that does everything it claims to do. A rare find these days. Best regards" Patrick Griffin
Mobile Solutions llc - Elanco Inc - Mark TK welding Inc - Chaudhary Brothers - EG Outdoor Products - Marquis Seating - Jim East - Pacific Steel - Quality Cases & Containers, LLC - Granite Art - Red Oak Fabrication - Glasair Aviation - Klear Vu Corporation - Hall, Kermit - Cutting Edge CNC - Heavy equipment repair - Heise engineering - Kelly-Anne Michaels - Daniel Flores - Cylinders Plus - Elam M Martin Machine Shop - Furniture Row Racing - I Quest - Reid Eichner - Allied Aerofoam Products
Another 3 Board Jumbo Video
Prices
Jumbo Tracing System with 0.01in (.254mm) Accuracy Boards:
Size 5x8' (1.5x2.4m) - $8,000.00
Size 5x12' (1.5x3.6m) - $11,500.00
Size 5x16' & 8x11' (1.5x4.8 & 2.4x3.3m) - $15,000.00
Size 8x16.5' (2.4x5m) - $22,000.00
Size 2x7.5' (0.6x2m) - $7,200.00
Size 3x9' & 4x7.5' (0.9x2.75m & 1.2x2m) - $7,600.00
Size 2x10.5' (0.6x3.2m) - $10,300.00
Size 3x14' & 4x10.5' (0.9x3.5m & 1.2x3.2m) - $10,900.00
Size 7.5x9' (2x2.75m) - $14,200.00
Toews Welding & Machining - Mill Metals - Corporate identification Solutions - Nick Steffens - Hussain Radi Workshop - - PCC airfoils - Taylors Eye Witness - Sportsman Boats - Seal Innovations Pty Ltd - EF San Juan Inc. - RS Van Interiors - John Hill - The Boeing Company Huntsville - Extreme pressure systems - Emerson - Profile waterjet cutting - B and D enterprises - Vadnais Steel - Foam Products Industries - Studio Margaret - General atomics aeronautical - Custom Stone Cutting - Langford's Mechanical Services - Sparta Steel & Equipment Corp
Prices
Jumbo Tracing System with 0.005in (.127mm) Accuracy Boards:
Size 5x8' (1.5x2.4m) - $9,400.00
Size 5x12' (1.5x3.6m) - $13,600.00
Size 5x16' & 8x11' (1.5x4.8 & 2.4x3.3m) - $17,800.00
Size 8x16.5' (2.4x5m) - $26,200.00
Size 2x7.5' (0.6x2m) - $8,800.00
Size 3x9' & 4x7.5' (0.9x2.75m & 1.2x2m) - $9,000.00
Size 2x10.5' (0.6x3.2m) - $12,400.00
Size 3x14' & 4x10.5' (0.9x3.5m & 1.2x3.2m) - $13,000.00
Size 7.5x9' (2x2.75m) - $17,000.00
Machitech automation - Scholl Construction - Precision Glass - Laguna CNC - Carrolls Contemporary Designs Inc - AAR Supply - Automotive manufacturing - Ralph Sorgiovanni - Benjegerdes Machine, Inc - Water Scythe - Impressions by Denton - PlanetPlexi - Ron Wiken - Tom's mobil welding - Taylor Made Builders Inc. - Lamons Gasket Company (WA) - Sh Tube LLC - Brillion High School - Coyote Steel - Hydrocut - Schafer Engineering - US Granite/Rancho Cordova - C. B EVOVANS - Rivera Services - Stemy Stuff
Frequent Questions about The Jumbo Trace and Logic Trace Digitizing Systems
Does it really work? Yes! Accurately digitize a part or pattern in a few minutes. We have been selling the product for over ten years and have over 1000 companies joyfully using the product. Many companies have boards in multiple locations.
Can it digitize metals? Most metals yes, over half of our clients are metal fabricators. It can also digitize paper, cloth, plastic, glass, cardboard, plywood, almost anything. It does have trouble with aluminum, it interferes with the magnetic field in the pen stylus. For aluminum, users must trace onto paper and then digitize the paper.
Can it digitize templates drawn on paper and cardboard or does the pen have to touch the board? Short answer, it can digitize through paper, cardboard, and other materials. Long answer. The board had an electrical grid with a Formica surface, the pen stylus generates a magnetic field which when placed within an inch of the board the board can "sense" exactly where the tip is. We can digitize patterns drawn on paper, cardboard or anything.
Danny's Welding - Recticel Midlands - United Heating and Cooling - Ron Pope Motorsports, LLC - SunTek UK - SeaFox Boat - Slick Azz Protective Coatings - AC Pro - Teels Steel Designs - Flach Racing - Klinger - Universal Foam Products - Craftsman foam Fab - Legacy Marine - Polymershapes - AIM Aerospace Sumner - Baysport Boats - Cardinal Ig Oregon - All metal fabrication - Johnston Towing - Marine Tech - Accurate Metal Sales - Alabama Power - Stinson's Industrial
Bird Wall Art and CNC Machine
What size boards are available? The most common size boards sold are 44x60 inches or a 5x8' Jumbo. Smaller boards include 36x48, 24x36, 20x24, 12x18, and 12x12 inches. Larger Jumbos include 5'x12', 5'x16', 10'x11' and larger.
Do you have a demo program? The best way to determine if this will work for you in to use one in your office and try it with your patterns and your CNC machines. Buy one and we offer a complete 60-day money back guaranty. Try it and if it doesn't work we will arrange shipping and provide a full refund. Returns rarely happen.
Can I start with a 44x60 now and upgrade to a 5x8' Jumbo later? Yes, buy one 44x60 board now and then buy another board later to make a Jumbo Tracer.
Is the board durable? Yes, it has a hard surface and lasts between 20 and 30 years. It can handle heavy weight, several hundred pounds, care should be taken to not drop anything on it or puncture the board. It can handle dirty shop environments. The surface can easily be cleaned using a damp cloth.
Left the best question for last. How accurate is the pen stylus tracing along a part? The boards come in two accuracies either 0.01" (hundredth of an inch, 10 mil) or 0.005" (5 thousandth 5 mil) and the pen stylus has a sharp plastic tip like a sharpened pencil. Because the pen generates a magnetic field, the board knows exactly where the tip is. Our customers tell us the traced patterns are within the accuracy of the board - .01" or 0.005". We also have a check size feature where two points are digitized on the part and the program automatically resizes the dxf file.
P. T. Bourke's Woodwork, LLC - Carbon-Core - Lyon Enterprise - Martin Steel and Iron - KMW fabrication - Geoffrey Carter - Bumper Protection Inc - Mediaquest Sign Company, LLC - Brett Fuller - Thunderbolt Marine - New Vintage Automotive - Sparks maintenance - Cuz_Tumz's CNC - Kentwood brick - Lippens Farms - Icon Identity Solutions/Calif - BVC Racing - CS Metal Art Decor & Gifts - Sacramento County Sheriff's Department - Pace Metal Fab - Shank's Welding - Gumm Enterprises - Contour Enterprises - Cong ty Tnhh San xuat thuong mai Vinh Khang - Illusive Fabrication
Jumbo Tracing between Boards Example
Jumbo Tracing between Boards Example #2
Saddle Ridge Fab and Welding - Valley fabrication - Southeastern Aerials - Hal-Techs - A.J. Forsyth - Plain Lake machining LTD - Atlanta Waterjet - Ewart's Fab & Custom - US Upholstery Services - Triple RRR Industries LLC - Groupe Lacasse - Northwood Machine Co., Inc - Pak-Rite, LTD - MI - Desert Metal Works - Fab-Tec Corporation - AP Fab - JCR Industries - Red Box Tools - Trulite Glass Salt Lake City - Duesway - Ziegler Cat - Arizona Custom Cushions - Stancraft boats - North American truck and trailer - Virtualize